Online Safety
Before we start - remember the SMART rules to help you stay safe online
Childnet's SMART Rules for Online Safety are a key part of our school "Charter for Responsible Computer Use" and children are regularly reminded to be SMART when they go online in school. Click the image below to open a PDF of our Charter in a new window.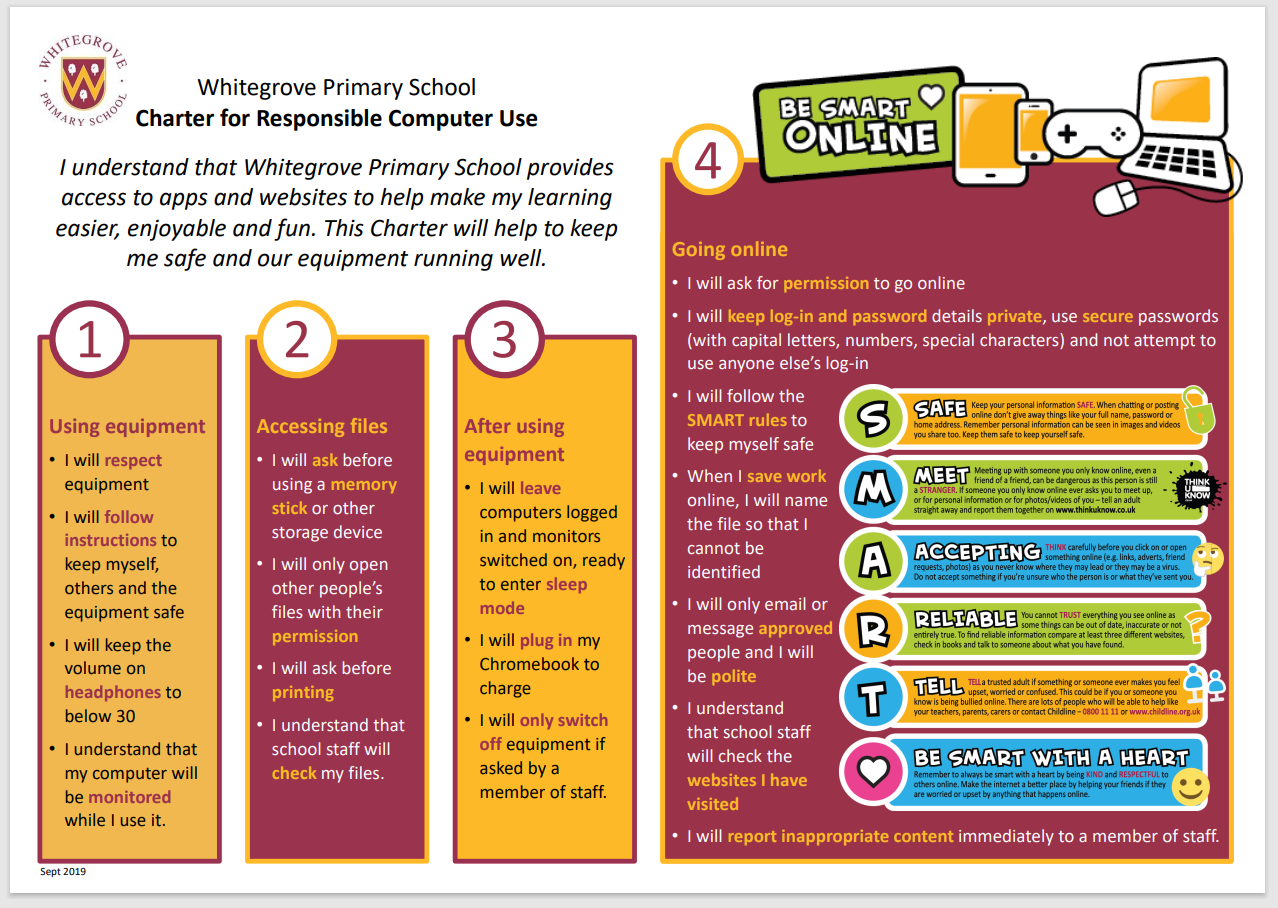 It's important that children keep their information private and safe when they go online. See this video from Lego - Captain Safety has some great tips.
Our "go to" organisations for online safety
Parent Zone
Parent Zone is a social enterprise - so works like a charity but is a not-for-profit business and re-invests all profits into their projects. Promoting a healthy and safe digital life to parents and carers, children and professionals, their free services help to build the skills needed to deal with the online world. They work with corporate partners to d

evelop new ideas - two examples follow:

Parent Info is their newsfeed, developed by Parent Zone in collaboration CEOP (

Child Exploitation and Online Protection command)

. A free service, it shares articles, tips, blogs, expert advice and resources to help parents and carers keep up with their children's on-line activities. They also run virtual parent/carer sessions about online safety (from cyberbullying to sharing carefully) - please click the link for details.
Be Internet Legends is Parent Zone's online safety adventure for families and has been developed in partnership with Google. It helps parents and carers to keep their families safer online and includes:

the Parents' Hub: to help parents and carers to h

elp their children be smarter, safer and happier explorers of the online world

Interland, an interactive game for children
the Legends Family Adventure, a

short animated series by Aardman Animations about a journey to Interland.

Find out more about

becoming safer and savvier explorers of the online world

by clicking the links above.
Guides
Parental Controls Advice
Useful links for children (in alphabetical order by group)
Useful links for parents and carers
Apps
Cyber bullying
Helping with new devices
https://eephonesmart.co.uk/ EE have created the PhoneSmart Licence, a course that prepares children for the online world that their new phone presents by teaching them how to stay safe and be kind online.
Media (games, movies etc)
www.askaboutgames.com/ - supported by video game publishers and retailers in the UK who are keen to ensure their products are enjoyed by suitable audiences - here to help if you have a question about games and age ratings
www.commonsensemedia.org/ - rates movies, TV shows, books, and more so parents and carers can feel good about the entertainment choices they make for their kids
pegi.info - helping parents and carers to make informed decisions when buying video games by providing age classifications for video games in 38 European countries - PEGI considers the age suitability of a game, not the level of difficulty
Reporting (e.g. images, contact, grooming, content etc)
www.ceop.police.uk/safety-centre/ - online reporting to one of CEOP's Child Protection Advisors
www.inhope.org/EN - reporting images of abuse
www.iwf.org.uk/ - anonymously and confidentially report images
Search engine for children
swiggle.org.uk/ - brought to you by the South West Grid for Learning in association with Google
Online Safety At Home from ThinkUKnow
In Spring 2020, ThinkUKnow (from NCA-CEOP, the UK organisation protecting children both online and offline) produced fortnightly activity sheets during lockdown on "Online Safety At Home" for parents and carers to go through with their children. They are still useful today so we have linked to them below:
For EYFS:
For KS1:
For KS2: